Common Chords Workshop with The Muslim Youth Choir
Date/Time
Date(s) - Sunday, November 22, 2009
10:30 am
Location
Congregation of Moses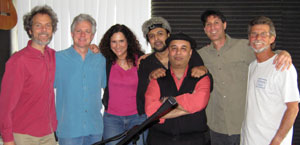 Common Chords
Sunday, November 22, 2009, 10:30am
COMMON CHORDS was created by Queens College's "Bridging the Divide" program, which fosters dialogue and cooperation between Jews, Muslims, Hindus and Christians. Common Chords promotes global peace and interethnic understanding the best way we know how: through music and activism. Their first single, "What Time Will It Be?" is now up on YouTube:
Part one: http://www.youtube.com/watch?v=IJ1KqHet2wk
Part two: http://www.youtube.com/watch?v=S05ozJQjQpc&feature=related
Common Chords will appear at the festival and play at Congregation of Moses. Sponsored by Arts Midwest.
Congregation of Moses
2501 Stadium Dr.
Kalamazoo, MI
[Map and directions]
FREE!
Map