Concert featuring David Briggs and singers from area high school honor choirs
Date/Time
Date(s) - Tuesday, November 17, 2009
12:00 pm
Location
First Baptist Church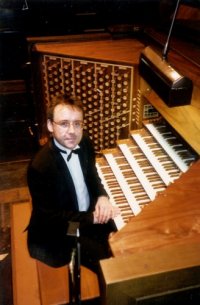 David Briggs
Monday, November 16, 2009, 8:00pm
David Briggs clinic with Grand Rapids American Guild of Organists in Grand Rapids.
First (Park) Congregational Church
10 E. Park St. NE
Grand Rapids, MI
[Map and directions]
For more information, go to: www.grago.org or www.parkchurch.org
Tuesday, November 17, 2009
Morning: David Briggs choral workshop with four high school honor choirs.
Noon: Concert featuring David Briggs and singers from area high school honor choirs.
First Baptist Church
315 W. Michigan Ave.
Kalamazoo, MI
[Map and directions]
FREE Concert
Map