Edith Hines with John Chappell Stowe with WMU's Collegium Musicum
Date/Time
Date(s) - Thursday, November 17, 2011
8:15 pm
Location
Dalton Center Recital Hall
Thursday, November 17, 2011, 8:15pm (FREE!)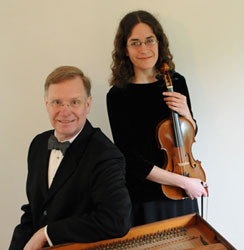 John Chappell Stowe and Edith Hines
A collaboration with WMU in presenting more works with Edith Hines and John Chappell Stowe with WMU's Collegium Musicum on a program including vocal and choral works, and premiere of new work for viol consort by Elizabeth Start.
Ensemble SDG, a violin and keyboard duo formed in 2009, performs music spanning the entire Baroque period, with a particular focus on the works of Johann Sebastian Bach. The duo has presented works by German, French, and Italian composers of the seventeenth and eighteenth centuries in recitals from the Midwest to the East Coast. Venues include Fringe Concerts at the Boston Early Music Festival; a recital featuring the historically informed Brombaugh organ at First Presbyterian Church in Springfield, Illinois; the biennial meeting of the American Bach Society and the annual joint conclave of the Midwestern and Southeastern Historical Keyboard Societies; and the Faculty Concert Series at the University of Wisconsin–Madison, where the duo performed Bach's six sonatas for violin and obbligato harpsichord. They are currently recording Bach's complete works for violin and keyboard—including the six sonatas with obbligato harpsichord, early versions of two of those sonatas with obbligato organ, three pieces with basso continuo, and the seldom-heard Suite in A, BWV 1025, arranged from a lute suite by Silvius Leopold Weiss.
Ensemble SDG takes its name from the epigraph used by Bach to sign many of his sacred works. Soli Deo gloria ("to God alone the glory") represents its members' common approach to music and to life, and it is with this grounding that they approach their technique, choice of repertoire, and interpretive decisions.
In addition to being a founding member of Ensemble SDG, violinist Edith Hines performs with the Madison Bach Musicians, Ensemble Musical Offering, and Bach Collegium Fort Wayne and directs an early music ensemble through the University of Wisconsin–Madison Division of Continuing Studies. She has been adjunct instructor of violin and viola at Ripon College and currently holds the position of Assistant Editor at A-R Editions as well as Assistant Program Director of the Madison Early Music Festival. Edith has studied modern violin with David Updegraff, Donald Weilerstein, and David Perry and has had coaching in historical performance from Julie Andrijeski, Robert Mealy, and others. She holds degrees from the Cleveland Institute of Music, New England Conservatory, Case Western Reserve University, and UW-Madison.
John Chappell Stowe is Professor of Organ and Harpsichord at the University of Wisconsin–Madison, where he also co-directs the Collegium Musicum. He has served two terms as national Vice President of the American Guild of Organists and has held the separate posts of Associate Director and Director of Graduate Studies of UW-Madison's School of Music. Dr. Stowe completed degrees in organ performance and business administration from Southern Methodist University, then earned the Doctor of Musical Arts degree in organ performance from the Eastman School of Music. Dr. Stowe performs as organist and harpsichordist both as soloist and ensemble performer. His recorded performances include Fenster with UW-Madison trumpet professor John Aley and a compact disc of the historic 1863 Wadsworth organ at St. James Church in Madison on the Ethereal label.
Dalton Center Recital Hall
Western Michigan University
Kalamazoo, MI
[Map and directions]
FREE!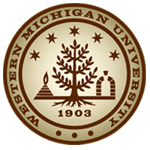 Map