Golosá, the University of Chicago Russian Folk Choir
Date/Time
Date(s) - Saturday, November 14, 2009
8:00 pm
Location
First Congregational Church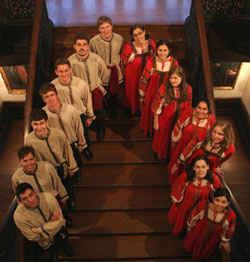 Golosá Russian Folk Choir
Saturday, November 14, 2009, 8:00pm
Golosá, the University of Chicago Russian
Folk Choir, sings sacred and secular Russian folk songs in a mixed voice a capella ensemble. This concert presented in collaboration with the Kalamazoo Russian Festival.
First Congregational Church
129 S. Park St.
Kalamazoo, MI
[Map and directions]
Tickets: $15 Adults; $12 Seniors; $5 Students
**The University of Pushkin Choir was unable to attend.
Map