Harlem Gospel Choir
Date/Time
Date(s) - Friday, January 27, 2012
8:00 pm - 10:00 pm
Location
Miller Auditorium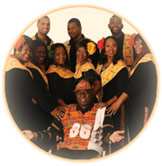 Harlem Gospel Choir
The world-famous Harlem Gospel Choir is the most famous gospel choir in America today. It travels the globe, sharing its joy of faith through its music and raising funds for children's charities. The Choir was founded in 1986 by Allen Bailey, who got the idea for the Choir while attending a celebration in honor of Dr. Martin Luther King, Jr. at the Cotton Club in Harlem. The Choir presents the finest singers and musicians from Harlem's Black Churches & the New York/Tri-State area. Opening for the Harlem Gospel Choir is Kalamazoo's own NAEA Gospelfest Choir.
Location:
Miller Auditorium
Western Michigan University
Kalamazoo, MI
Tickets:
Ticketed through the Miller Auditorium box office.
Map