Northern Illinois University Chamber Choir: Choral Music of Tanzania and Israel
Date/Time
Date(s) - Sunday, March 11, 2012
2:00 pm - 4:00 pm
Location
First Presbyterian Church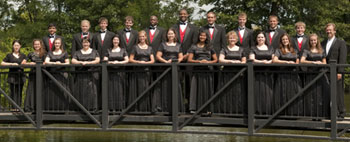 NIU Chamber Choir
Northern Illinois University Chamber Choir
Dr. Eric A. Johnson, director
Israeli Choral Music:
The musical heritage of Israel, a country formed by immigrants from Eastern and Western countries, presents a unique environment for musical creation, which is infused with diverse musical traditions of many cultures. In its relatively short history, Israeli choral music has experienced three distinct phases of evolution, shaped by the multiple sources of cultural influences and the country's rapidly changing circumstances. Part of the concert will present fascinating aspects of choral music written in Israel by the most prominent Israeli composers, reflecting the vibrancy and richness of this ever-evolving choral repertoire.
Initial focus will be given to compositions of composers who were born in the Diaspora and immigrated to Israel in the first half of the 20th-century. These composers tried to create music of "Hebrew" identity by combining the musical traditions from their countries of origin with the local Middle Eastern music that they encountered in their new home, and by setting it to the meters and inflections of the Hebrew language, which until that time was only used by them for prayer.  The second category presented will be of music that was written after the birth of the State of Israel, in the middle of the 20th-century.  Compositions from this category reflect influences of Israeli folk songs and nationalism, versus composition that show a distinct nexus to the post 1950 Avant-garde style of Western music.  The third category will introduce the younger generation of native Israeli composers.  These composers are less concerned with creating music of "Israeli identity" per se.  Rather they focus more on creating music which is both a reflection of their personal identity, and a part of a global community of universal ideas and subjects, keeping in alignment with the contemporary styles and currents of Western music.
Tanzanian Choral Music:
The second half of the concert will feature choral works from Tanzania, representing the many different ethnic groups and their musical traditions.  The works will be sung in Swahili, the national language of Tanzania, and additional commentary on traditions and musical styles will be shared by Rev. Seth Ole Sululu and Dr. Johnson.  Ethnic groups whose music will be performed include Massai, Wahehe, Chaga and more.
The collaboration of Dr. Johnson and Rev Sululu began in 2009 when Dr. Johnson traveled to Tanzania to serve a residency at Makukira Universtiy in Arusha Tanzania.  While there, Johnson traveled into the bush to visit several Massai villages to learn about their choral traditions and document performances.  Rev. Sululu was the guide and translator for those trips into the bush.  In the fall of 2010, Rev. Sululu began his studies at Northern Illinois University to earn a Masters Degree in Choral Conducting.  For the last two years Johnson and Sululu have been working together to raise the awareness of the choral music of Tanzania.  Their presentations at the Central Division Convention of the American Choral Directors Association and today;s concert is the beginning of a longer journey as ambassadors of this exciting music.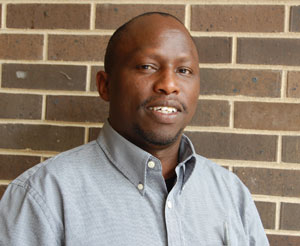 Rev. Seth Mesiaki Ole Sululu
Rev. Seth Mesiaki Ole Sululu is an Evangelical Lutheran Church of Tanzania (ELCT) Northern Central Diocese (Arusha- Tanzania) minister, currently a Graduate Choral Conducting student at Northern Illinois University.  Having earned degrees in theology (1998), Bachelor of Divinity (2004), and BA in Music (2008) from Makumira University in Tanzania, Rev. Sululu is a well-known music educator, choral conductor/director, music arranger and composer in Tanzania. He has been adjudicator for ELCT choir competitions in different Dioceses in Tanzania, a guest conductor and performer in Tanzania and outside Tanzania (performed in six concerts in Germany, 2007). Sululu has done several presentations about Tanzanian music both in and outside Tanzania. He is an ethnic Maasai, a well-known ethnic group in East Africa. He has researched and taught both traditional Tanzanian and Western classical music in Tanzania. His extensive research in collecting and analyzing Maasai folk songs has resulted in the publication of  "The Traditional Music of the Ilkisongo Maasai of Northern Tanzania," a multi-media anthology to study in-depth about this unique music culture in Tanzania.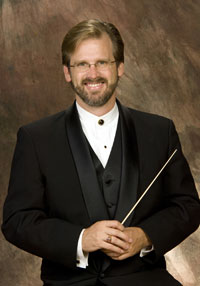 Eric A. Johnson, D.M.A.
Eric A. Johnson D.M.A.is the Director of Choral Activities at Northern Illinois University, DeKalb, where he directs the Concert Choir and Chamber Choir, and teaches choral literature and conducting. He is also the Founding Music Director of Cor Cantiamo, a semi-professional choir based in the Chicago land metro area. Ensembles under his direction have performed at national and state MENC, NCCO, and ACDA conventions, Avery Fisher Hall, Lincoln Center NYC, and appeared with many professional orchestras.
During his tenure at NIU, Johnson has collaborated with many leading composers of our time including Morten Lauridsen, Libby Larsen and commissioned new works from Sir John Tavener, Jaakko Mäntyjärvi, and Stacey Gibbs, with whom he is recording an entire CD of choral music scheduled for release in 2013.  Internationally Johnson has served as a guest conductor of the Clare College Chapel Choir, Cambridge, England, taught at Makumira University, Tanzania, and directed guest choral residencies at Canterbury and Worcester Cathedrals in England.  He has studied conducting with Helmut Rilling, Dennis Keene, Robert Fountain, and Weston Noble.
Dr. Johnson has published music with Santa Barbara Music Publishing, has several articles published in the Choral Journal and has presented interest sessions at national, divisional, and state ACDA conventions.  He is active nationally as a clinician, conductor and adjudicator and is Past-President of the Illinois-ACDA. He earned degrees from University of Illinois, University of Wisconsin-Madison, and Luther College.
Location:
First Presbyterian Church
321 W. South St.
Kalamazoo, MI
[Map and directions]
Tickets:
Free–donation suggested
Map