Sacred Seasons, Kalamazoo Symphony Orchestra
Date/Time
Date(s) - Friday, November 20, 2009
8:00 pm
Location
Miller Auditorium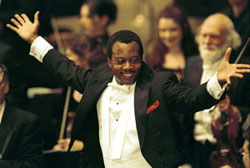 Raymond Harvey and the KSO
Friday, November 20, 2009, 8:00pm
This program, sponsored in part by MFSM, includes Four Seasons by Vivaldi, and works by Bloch and Prokofiev on Jewish themes.
Miller Auditorium
Western Michigan Unviersity
[Map and directions]
To order tickets online: www.kalamazoosymphony.com
Phone: 269.387.2300
Reserved seats: $19-$49, Harvey's Hideaway: $5 in advance, $7 at the door.
Group discounts available.
Map