Southern Straight Singers
Date/Time
Date(s) - Saturday, November 21, 2009
2:30 pm
Location
Kalamazoo Public Library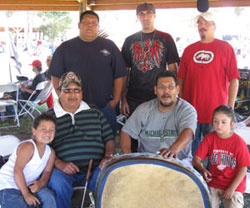 Southern Straight Singers
Saturday, November 21, 2009, 2:30 and 3:30pm
Southern Straight Singers present Native American Pow Wow music and dance representing sacred and social traditions of the Three Fires Tribes, known as the Bode'wadmi, Ojibwe & Odawa (Potawatomi, Ottawa and Chippewa). Program includes informative commentary and dancers in regalia. Presented by MFSM with sponsorship by Kalamazoo Public Library.
Kalamazoo Public Library
315 S. Rose St.
Kalamazoo, MI
[Map and directions]
FREE!
Map