Special Festival Event: Gospel Concert by LaMont McCoy and Kevin P. Myles
Date/Time
Date(s) - Sunday, November 01, 2009
7:00 pm
Location
Galilee Baptist Church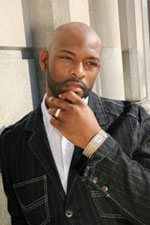 LaMont McCoy
Sunday, November 1, 2009, 7:00pm
Kevin P. Myles, Detroit-area gospel singer; Lamont McCoy and Kalamazoo gospel singers/groups present a concert at Galilee Baptist Church. A benefit for area shelters and food banks. Donations of food and personal care items will be accepted.
Galilee Baptist Church
1216 N. Westnedge Ave.
Kalamazoo, MI
[Map and directions]
For more information, go to www.gbckazoo.org
Free will offering.
Map