Tapestry
Date/Time
Date(s) - Saturday, November 12, 2011
2:00 pm
Location
Dalton Theatre, Fine Arts Building
Workshop: Saturday, November 12, 2011, 2:00pm (FREE)
Concert: Sunday, November 13, 2011, 3:00pm (Ticketed)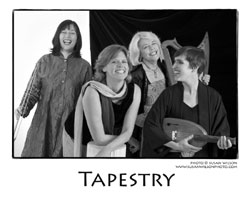 Boston-based female vocal quartet Tapestry, popular MFSM guests, presenting a new work based on Tibetan music and folklore.
All singers are welcome for the Saturday workshop in vocal and vocal ensemble techniques. The Saturday Workshop is presented by MFSM in collaboration with the Kalamazoo Bach Festival.
Presentation of Tapestry and Le Bon Vent is supported by the Performing Arts Fund, a program of Arts Midwest, funded by the National Endowment for the Arts, with additional contributions from the Michigan Council for Arts and Cultural Affairs, General Mills Foundation, and Land O' Lakes Foundation.
Saturday Workshop:
FREE!
Location:
Dalton Theatre, Fine Arts Building
Kalamazoo College
1200 Academy St.
Kalamazoo, MI
[Map and directions]
Sunday Concert:
Tickets: $15 Adults; $12 Seniors; $5 Students
Location:
Holy Family Chapel
Nazareth Center
3427 Gull Road
Kalamazoo, MI 49074
[Map and directions]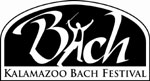 Map